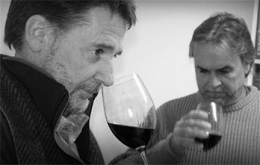 18 years ago, over a big drink in a small bar late one night it Italy, we decided that when we returned to Australia we would attempt to make "our" perfect Shiraz.
Naturally our wives were somewhat sceptical. However, we convinced them with our cunning logic – "If we don't sell it, we can always drink it". They were on board immediately.
That's how the 2 Mates story started and it has been an enjoyable journey ever since. And we now have a large gathering of "mates" from all around Australia and elsewhere who believe that we got it right.
Our wives shouldn't have worried after all.
We are now onto vintage number 16.
Along the way, we have picked up various awards, medals and gongs – plus some strong reviews from leading Australian wine critics. We have certainly learned a lot about what technically makes a great wine. However, the one thing we have known all along is that a great wine is really about the friends you share it with.
That's the essence of 2 Mates. Always share it with a mate or two.